Recovery Six was in the same Recovery program as Agent Washington. Recovery Six and Recovery Nine were both killed by The Meta while investigating the incident at Outpost 17-B "Valhalla". He is killed when the Meta surprises them and hits him off his Mongoose with the blade of the Meta's Brute Shot. Recovery Six's Freelancer State name, Armor Enhancement, and AI (if any) are currently unknown. He is the first character to be killed by the Meta in the Halo 3 Engine.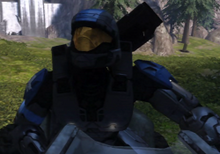 Ad blocker interference detected!
Wikia is a free-to-use site that makes money from advertising. We have a modified experience for viewers using ad blockers

Wikia is not accessible if you've made further modifications. Remove the custom ad blocker rule(s) and the page will load as expected.